Several weeks ago, I wrote about Keith Raniere's latest attempt to utilize the U.S. legal system to remedy some perceived wrongs that had been done to him (See: Keith Raniere's Latest Lawsuit About to Go Down in Flames).
At that time, I noted that the attorney representing all the defendants in the lawsuit – which include U.S. Attorney General Merrick Garland, the Director of the U.S. Bureau of Prisons (BOP), and the Warden at USP Tucson, which is where Raniere has resided since January 2021 – had moved to either dismiss the case in its entirety or to grant summary judgment in favor of all the defendants.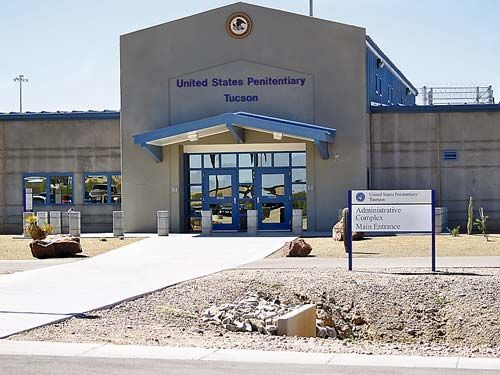 ********************
New Filings in the Case
On September 9th, Stacy Estes Scheff, the attorney representing Raniere in this matter, requested permission to file a Second Amended Complaint in the action (She already filed her First Amended Complaint one day after filing the original action).
In conjunction with her request, Scheff also submitted a red-line version of the First Amended Complaint that details all the changes she will make to that filing if the court permits to file a Second Amended Complaint. These include, but are not limited to, the following: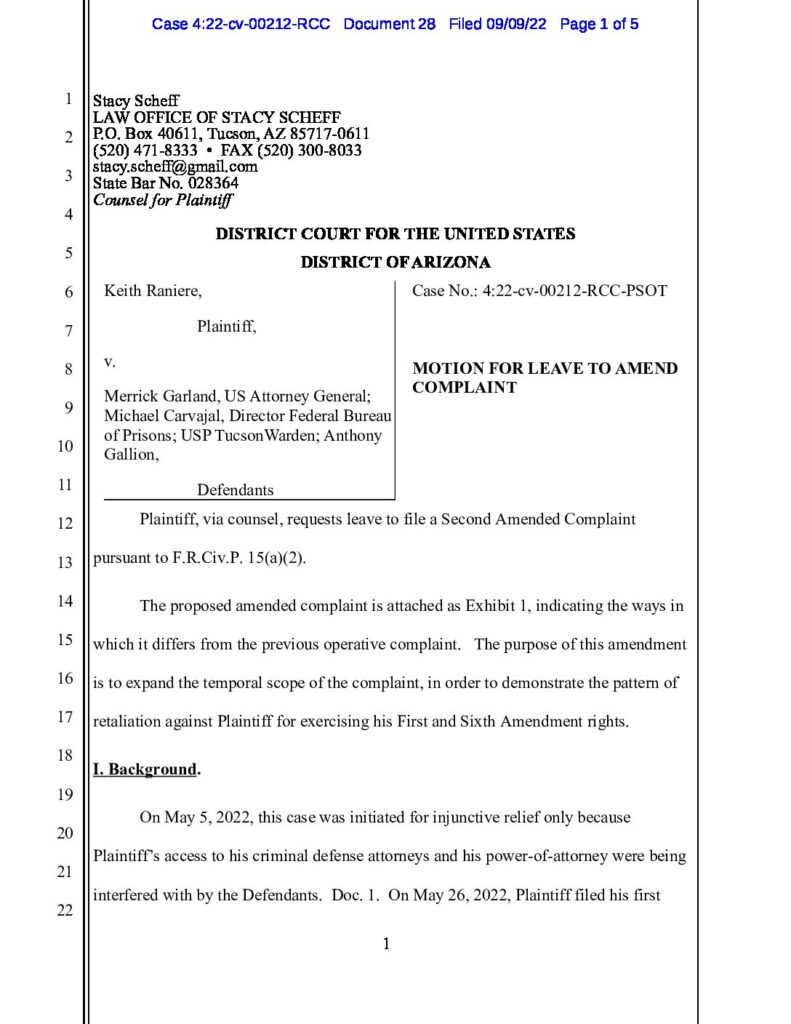 A description of the work that has been undertaken by Suneel Chakravorty – and the "experts" that he hired – to back up Raniere's claim that some of the evidence that was introduced at his trial was allegedly altered or fabricated by FBI agents and/or members of the prosecution's team;
A description of Chakravorty's role in allegedly representing Raniere with respect to the processing of Pamela Cafritz's estate;
A description of Chakravorty's role in allegedly communicating with Mariana (Last Name Withheld) about their son – and about Raniere's "interest in Mexico" (

Note: There is no indication as to what "interest" Raniere has in Mexico

);
An allegation that the "USP Tucson Warden does not recognize [Raniere's] Mexican attorney, Jorge de la Garza, as an attorney for the purposes of legal calls and/or visits";
A description of why Chakravorty was allegedly removed by USP Tucson from the list of people who can visit with Raniere;
An allegation that Nicki Clyne was allegedly banned from visiting with Raniere after she had met with him on July 24, 2021 by someone "above the Warden";
An allegation that the USP Tucson Warden delayed Raniere's disciplinary hearing regarding his alleged attempt to communicate with Clyne via another prisoner in order to keep Raniere in the Special Housing Unit (SHU) for an extended period of time;
An allegation that the USP Tucson Warden's suspension of Dr. Danielle Roberts' visits with Raniere was in violation of [Raniere's] First Amendment rights of Free Speech and Free Association";
A more detailed allegation that the USP Tucson Warden "is acting arbitrarily and without penological justification" in denying Chakravorty's request to speak to – and/or meet with – Raniere; and
A description of the alleged physical assault that Raniere suffered on July 26, 2022 – and an allegation that the USP Tucson Warden has kept Raniere housed in the SHU after the incident in retaliation for his decision to exercise his constitutional rights "to challenge his criminal conviction and to speak to, and visit with, anyone not excluded by law or valid penological purpose."
********************
What Happens Next?
While Ms. Schiff may garner admiration and credit from Raniere and his still loyal followers for the disingenuous way she filed her request for permission to file a Second Amended Complaint, it is also quite possible that the presiding judge in the matter, U.S. District Court Judge Raner C. Collins, might not be amused by her Trojan Horse approach.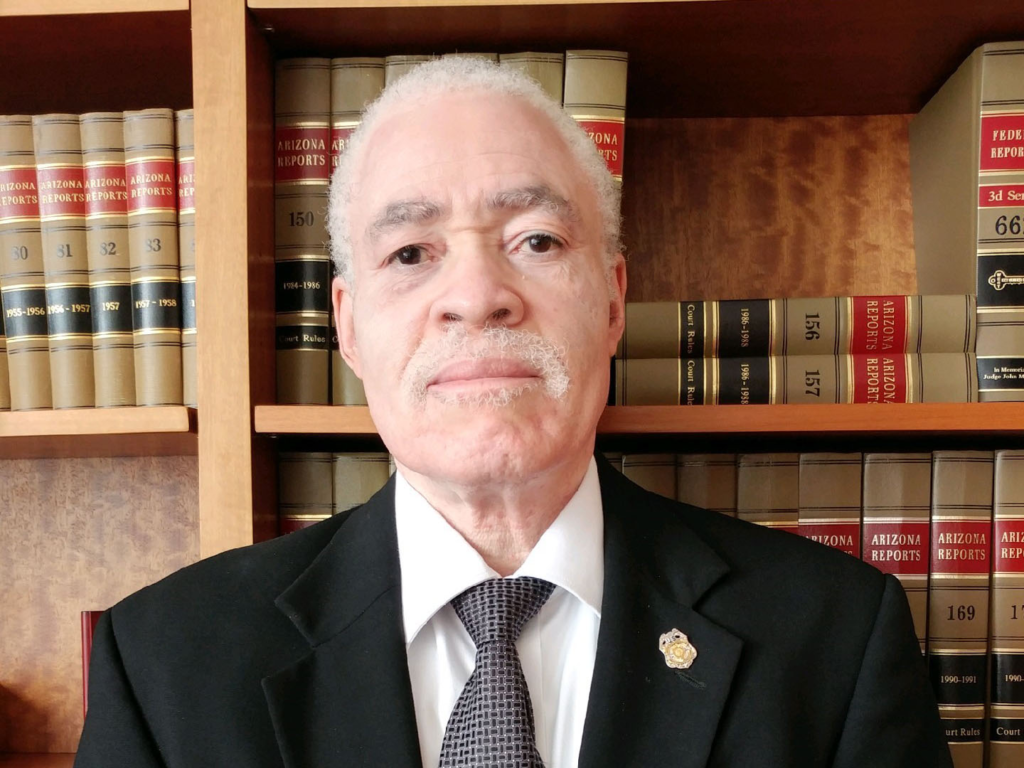 But regardless of whether – or how – Judge Collins reacts to the way in which the new filing was done, there is one major problem that will likely result in the entire lawsuit being tossed out: Raniere has still not exhausted the "administrative remedies" that are available to him within the BOP's Administrative Remedy Program BEFORE the lawsuit was filed.
As I pointed out in my earlier post about this case – and as is still true – the Prison Litigation Reform Act requires federal prisoners to exhaust all the administrative remedies that are available to them per the BOP's Administrative Remedy Program before they can file any lawsuit "with respect to prison conditions."
Not only did Raniere not exhaust his administrative remedies before filing the original Complaint on May 5, 2022, he also admitted in the First Amended Complaint that he had not done so.
The defendants in this matter have already pointed out that Raniere did not exhaust his administrative remedies before he filed this lawsuit, thereby putting the court on notice of that fact.
So, rather than filing more destined-to-fail requests like the most recent one, Stacy Scheff might want to familiarize herself with the applicable law – and advise her client to hire someone to help him work through the multiple levels of appeal that are part of the BOP's Administrative Remedy Program if he can't figure it out himself (Most prisons have one or more "jailhouse lawyers" who have become quite knowledgeable about the various nuances of the program – and there are even former inmates such as David Simpson who specialize in providing such services).
So, why doesn't she do that?
Maybe it has something to do with having a client who is willing to pay top dollar for failure so that he can have more reasons to claim that he's being treated unfairly.
Such is the bizarre world of Keith Alan Raniere…